FOR IMMEDIATE RELEASE
TruePoint Solutions Named as Accela Systems Integrator Partner of the Year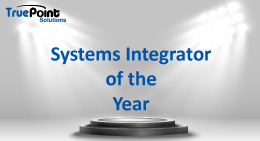 LOOMIS, Calif.—Aug. 9, 2023: TruePoint Solutions, leading provider of government-focused professional services, CIS/utility billing and irrigation management solutions, is pleased to announce that it has been recognized as the Accela Systems Integrator of the Year
Each year, Accela Software designates the Partner of the Year award to one of its network of over 50 global partners for each of three categories, Technology Alliance Partners, Reseller Partners, and System Integrator Partners. Accela selects the partner for each category that has stepped above and exceeded the high standards consistently achieved in selling and/or implementing Accela solutions, and in doing so made a remarkable difference in the success of its customers.
"TruePoint Solutions has a consistent track record of improving Accela customers' existing implementations over time and we have had numerous positive results with many of our joint customers," said Tony Aiello, VP of Alliances and Channels. "Keith Hobday and the TruePoint team represent a straightforward and effective response to RFP's and are a highly sought-after and referenceable partner that have honed a winning strategy."
Systems Integrator Partners perform implementations, support, and enhancements to Accela solutions, while ensuring customers are successful and leveraging their technology at its best and most beneficial level. In awarding the designation, Accela recognizes TruePoint Solutions for its impeccable standards, achievements, and positive outcomes in agency projects.
"It's an honor to have been selected for this distinguished award," states Keith Hobday, Director of Services and Founding Partner at TruePoint Solutions. "We're proud of the work we've done with Accela, and the excellent results we've achieved for public agencies in the more than 150 projects we've performed. We couldn't be more pleased to partner with Accela, for its top-rated products and exemplary team."
TruePoint Solutions and Accela have had a successful partnership since 2005, which designates TruePoint as Accela's longest-tenured implementation partner. Over the course of 18 years and over 150 projects, the two companies have empowered agencies to better serve their residents through the strategic use of Accela solutions and technology.
Read more about Accela's Partnership Awards.
About Accela
Accela provides a unified suite of cloud solutions trusted by governments across the globe to accelerate their digital transformation, deliver vital services, and build stronger communities. More than 300 million citizens worldwide benefit from Accela's government software solutions. The company offers agile, purpose-built solutions and the power of a platform that provides users with a consumer-like experience, shares data across departments, and ensures world-class security.
With Accela, government agencies experience rapid and effective digital transformation. Accela's government software meets agencies wherever they are on their modernization journey, while also helping them prepare for whatever comes next. The company is a three-consecutive year Microsoft US Partner Award winner for its innovative SaaS solutions to help governments respond to the COVID-19 pandemic. In 2022, Accela was honored as a recipient of Inc.'s Best in Business for SaaS and selected by Fast Company for its World Changing Ideas Award. Accela is headquartered in San Ramon, California, with offices around the world. For more information, visit www.accela.com.
About TruePoint Solutions
TruePoint Solutions is a California-based software and services company, focused exclusively on information technology solutions for local government agencies, water companies, and special districts. The TruePoint Solutions team holds decades of work experience with local government, designing, building, implementing, and supporting complex government applications. This depth of experience has given the TruePoint team keen insight into the needs of the industry. TruePoint Solutions products are fully browser-based and utilize the Microsoft .Net framework. TruePoint is a Microsoft partner and an Esri development partner and is one of Accela's first implementation partners. Learn more at www.truepointsolutions.com.
Media Contact
Juli Rose
TruePoint Solutions
(916) 259-1293
marketing@truepointsolutions.com
www.truepointsolutions.com
---