FOR IMMEDIATE RELEASE
Middle Rio Grande Conservancy District Modernizes Billing and Customer Access with TrueBill™ and TrueCIP from TruePoint Solutions™
LOOMIS, Calif.—June 28, 2022: TruePoint Solutions™, developer and provider of leading utility and agricultural billing software and professional services, today announced the successful implementation of its flagship product, TrueBill™ utility billing solution and TrueCIP, its proprietary customer portal at the Middle Rio Grande Conservancy District (MRGCD).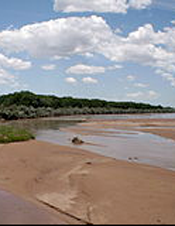 The move to TrueBill and TrueCIP is a significant component of a larger initiative to modernize and improve efficiency of the District's overall irrigation management and billing processes. TrueCIP has been integrated with Elavon as its payment provider, allowing customers to make payments online.
TrueBill stood out as the ideal solution for the District due to its ease-of-use, user-friendly interface, robust reporting capabilities, and its seamless integration with TrueAIM and TrueCanal, TruePoint Solutions' irrigation management tools, which will be implemented at a future date.
The implementation has streamlined and simplified processes. Tasks and customer information retrieval that previously required multiple screens to accomplish can now be performed from a single screen. Billing and dunning have also been vastly improved. Customers now receive a single bill for all of their parcels. The District's previous system created a separate bill per parcel, regardless of how many parcels a customer owned, which resulted in excessive paper, postage, and tedious calculations for customers with multiple parcels. Additionally, dunning is now automated and systematic, as opposed to the previous process which was manual and labor intensive.
"We feel that we really made the right decision in going with TruePoint Solutions. The implementation went smoothly and we were able to bring in historical data," states Pamela Fanelli, CFO/Treasurer/Secretary at the Middle Rio Grande Conservancy District. "We didn't think we could get a product to fit our needs but we did. We look forward to implementing the other modules."
TruePoint's expert implementation team ensured that the solutions were set up to meet the District's specific needs now and moving forward. The team's expertise and understanding of the processes to be performed by the agency give it unique insight into client needs. The TruePoint team has a strong reputation for placing individual attention on each implementation so the solutions are configured to the specific needs and operations of the client.
Moving forward, the District will further leverage its investment in TrueCIP by augmenting its TruePoint Solutions suite with TrueAIM and TrueCanal. The next implementation will enable customers to submit online requests for irrigation water.
"We congratulate the Middle Rio Grande Conservancy District for its vision and commitment to maximize efficiency and improve processes," states Don Hunsinger, Manager of Software Development and Customer Service at TruePoint Solutions. "We are happy to provide the solutions that equip the District to simplify, modernize, and streamline processes and empower customers with an online portal that further increases efficiency and improves customer satisfaction."
About Middle Rio Grande Conservancy District
The Middle Rio Grande Conservancy District was created in 1923 and continues to provide benefits to the residents of the river valley. The District operates, maintains, and manages irrigation, drainage, and river flood control in the Middle Rio Grande Valley, promotes efficient and responsible water management, protects the environment, wildlife and endangered species in cooperation with other local, state, and federal agencies, and provides multi-use recreational opportunities within the Middle Rio Grande Valley. The Rio Grande is an indispensable water source that provides for the livelihood of thousands. For more information, visit https://www.mrgcd.com/.
About TruePoint Solutions
TruePoint Solutions is a California-based software and services company, focused exclusively on information technology solutions for local government agencies, water companies, and special districts. The TruePoint Solutions team has a phenomenal resume of work experience with local government designing, building, implementing, and supporting complex government applications. This depth of experience has given the TruePoint team keen insight into the needs of the industry. TruePoint Solutions applications are fully browser-based and utilize the Microsoft .Net framework. TruePoint is a Microsoft partner and a member of the Microsoft Developer Network. Learn more at www.truepointsolutions.com.
Media Contact
Juli Rose
TruePoint Solutions
(916) 860-4609
marketing@truepointsolutions.com
www.truepointsolutions.com
---