FOR IMMEDIATE RELEASE
TruePoint Solutions Successfully Implements DigEplan Cloud-based Plan Review Solution at the City of Longview, TX
LOOMIS, Calif.—June 23, 2023: TruePoint Solutions, leading provider of professional services and billing software for public sector today announced that the City of Longview, TX has gone live with Avolve Software's DigEplan electronic plan review solution for its planning and building departments.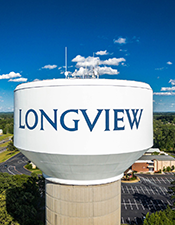 DigEplan has been integrated with the City's Cityworks PLL permitting solution to create a full end-to-end permitting and plan review solution and reduces the time to approval and permit issuance. The City sought a solution that would create an easier submittal process for applicants and staff, as well as alleviate the cost, space, inconvenience, redundant work, and additional time associated with paper plan reviews. The DigEplan solution accommodates each of the City's requirements, and also centralizes projects, so all documents and communications pertaining to a given project stay within the project by default. The City is now equipped to perform plan reviews as a fully paperless process, while eliminating any need to scan or store bulky paper plans. As well, applicants will save up to thousands of dollars in printing costs per submittal.
"Longview joins our growing Texas customer base, as they chose DigEplan to ensure a seamless integration between Cityworks PLL and plan review. In addition to benefiting from TruePoint Solutions' expertise of community development technology delivery, ensures that Longview has the technology in place to support a thriving community, so government staff are able to efficiently do their roles, minimizing unnecessary administration, while delivering an outstanding applicant experience," said Derek Porter, Chief Growth Officer, Avolve Software.
As part of the implementation and integration, TruePoint Solutions worked with Longview's existing workflows without needing to modify them to get the City live with DigEplan. No middleware or third-party connectors were required, creating a seamless integration with data able to transfer in real-time between the two applications. As a result, the City experienced a smooth transition to using DigEplan, with virtually no disruption to their established processes.
"The City of Longview will be very well served by the addition of DigEplan integrated with their Cityworks PLL solution," states Ryan Lucia, Implementation Consultant at TruePoint Solutions. "DigEplan was the clear choice to meet the City's needs, as its configurability and rich set of features allow it to operate within its own parameters, while improving efficiency. Its seamless integration with Cityworks PLL combined with our expertise made for a fast, smooth, and problem-free integration, so the City was up and running and reaping the benefits of operating without paper in a matter of weeks."
TruePoint Solutions was selected for the project based on its extensive record of success with similar projects for public agencies. With unrivaled experience, the company is uniquely positioned to identify the ideal solution to meet the needs of the agency, and recommended the DigEplan solution to be integrated with the City's Cityworks PLL permitting platform. TruePoint expertly performed the integration, which progressed optimally, thanks in part to the City's preparedness, and in part to TruePoint's ability to proceed without encountering the issues that can commonly occur when performed by a less-experienced firm.
About Longview, TX
Longview is the county seat of Gregg County. The City is the hub of East Texas outdoor recreation and leisure travel, and is famous for its fine dining, historic downtown, and the Great Texas Balloon Race, a competitive event attracting world class hot air balloon pilots from around the world. There are 25 lakes within 75 miles of Longview, providing many outdoor activities. Learn more about Longview at www.longviewtexas.gov
About TruePoint Solutions
TruePoint Solutions is a California-based software and services company, focused exclusively on information technology solutions for local government agencies, water companies, and special districts. The TruePoint Solutions team holds decades of work experience with local government, designing, building, implementing, and supporting complex government applications. This depth of experience has given the TruePoint team keen insight into the needs of the industry. TruePoint Solutions products are fully browser-based and utilize the Microsoft .NET framework. TruePoint is a Microsoft partner and an Esri development partner. Learn more at www.truepointsolutions.com.
Media Contact
Juli Rose
TruePoint Solutions
(916) 259-1293
marketing@truepointsolutions.com
www.truepointsolutions.com
---