FOR IMMEDIATE RELEASE
Nationally Recognized Expert, Dr. Jordon Shaw, Joins TruePoint Solutions to Enhance Public Agencies' Experience
LOOMIS, Calif.—Aug. 1, 2022: TruePoint Solutions, developer and provider of leading-edge utility billing/CIS solutions and professional services for local government agencies, today announced that Dr. Jordon Shaw, D.B.A, has joined the organization.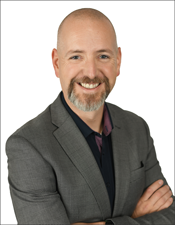 Dr. Shaw will assume a senior-level role at the technology company providing strategic guidance to customers regarding their needs, implementations, data migrations, and outcomes. As a renowned speaker, he will also represent TruePoint Solutions in speaking engagements at a variety of industry conferences, to share his insight into best practices, trends, and innovative strategies for successful projects.
"Ever since I first met Kent and the members of his team a few years ago, I could tell that TruePoint not only goes out of their way to make sure their clients' needs are met, but they truly care about the work they are doing for their clients. They listen and understand what their clients' needs are and then they create technology solutions to help solve those needs," states Dr. Shaw. "I'm happy to be part of the team, and look forward to working within TruePoint Solutions, supporting the mission of providing the best solutions for their clients' needs."
Dr. Shaw comes to TruePoint Solutions with considerable experience in both the public and private sectors. His background includes 10 years of service with the City of Franklin, TN, in increasingly responsible roles resulting in his role as IT Director of the City. During his tenure at The City, he led the implementation of the full suite of Infor Public Sector solutions without the need for participation by Infor, and provided in-house consulting to support the solutions. Dr. Shaw has a strong background in data science and has leveraged his expertise to enhance companies' product offerings and to guide customers to optimize and execute on strategies to achieve organizational goals. Among his previous titles, he has served as IT Director and CTO.
Jordon is a highly accomplished professional with an impressive record of professional and academic achievements. He holds a Doctor of Business Administration in Information Technology and is on track to earn a second Ph.D. in Artificial Intelligence later this year. Throughout his adult life he has sought and stepped up to progressively greater challenges and has achieved unqualified success at every instance.
"Jordon Shaw is the perfect complement to our team of experts and depth of expertise," states Kent Johnson, CEO of TruePoint Solutions. "Since our inception, we've founded and built TruePoint Solutions with professionals who hold the experience and insight that's critical to our clients' success. With Jordon coming onboard, our team has grown even stronger."
About TruePoint Solutions
TruePoint Solutions is a California-based software and services company, focused exclusively on information technology solutions for local government agencies, water companies, and special districts. The TruePoint Solutions team has a phenomenal resume of work experience with local government designing, building, implementing, and supporting complex government applications. This depth of experience has given the TruePoint team keen insight into the needs of the industry. TruePoint Solutions applications are fully browser-based and utilize the Microsoft .Net framework. TruePoint is a Microsoft partner and a member of the Microsoft Developer Network. Learn more at www.truepointsolutions.com.
Media Contact
Juli Rose
TruePoint Solutions
(916) 860-4609
marketing@truepointsolutions.com
www.truepointsolutions.com
---