FOR IMMEDIATE RELEASE
TruePoint Solutions Adds New Functionality to Enhance Efficiency of Utility Billing and Agricultural Irrigation Management Solutions
LOOMIS, Calif.—July 5, 2022: TruePoint Solutions, developer and provider of leading edge utility billing and agricultural irrigation management solutions, announced that it has augmented the functionality in its products, TrueBill and TrueAIM. The additional advanced functionality supports the company's commitment to provide its customers with the latest technology to optimize efficiency and maximize effectiveness.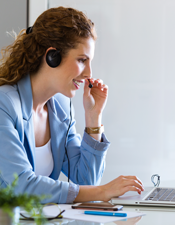 "Since TrueBill and TrueAIM were launched, we've continually worked to keep them at the forefront of technology," states Don Hunsinger, Manager of Software Development and Customer Service at TruePoint Solutions. "Our strong relationships with our customers and staying abreast of current trends and advancements in the industry keep us in tune with current and upcoming needs for agencies. We're committed to providing our customers with the best tools to equip them to operate effectively and efficiently. The recently released tools and components in our software directly align with that objective."
The company has unveiled new tools and components that are available in its TrueBill and TrueAIM software solutions.
The new Job Companion tool goes beyond existing workflows and automates jobs that are typically executed in batch processes, rather than individually. Tasks managed in full sections such as generating bills or penalties, importing and routing payments and importing and exporting complex custom interfaces can be automated via the Job Companion tool. It saves significant time for staff who had been tasked with processes that have historically been performed manually.
TruePoint has a proven track record of improving the agency and customer experience, with user-friendly solutions that automate tasks and streamline workflows. The company's TrueCIP customer information portal also empowers agencies' customers to access the information they would otherwise call agencies about, saving significant time for customers and staff alike.
Spurred by the success of empowering customers with easy access to the information they seek, TruePoint Solutions has introduced the Notification Companion into its TrueBill and TrueAIM solutions. Notification Companion was developed to further enhance communications and to improve the way agencies communicate and interact with their customers.
With the Notification Manager, agencies can send a variety of notices and information to customers via email or text messaging. Communications can be specific to the individual recipient, such as advising of a payment received, a bill becoming past due, or can be sent to all recipients in an area to advise of information affecting the full group, such as maintenance-related planned outages. The availability of additional avenues of communication improves customer satisfaction and mitigates issues like penalty fees or service interruption that may arise without such reminders. While agencies typically include a variety of notifications in customers' physical bills, studies have shown that information is more likely to be read when received as an email or text message.
For more information about TrueBill and TrueAIM, please visit www.truepointsolutions.com/products.shtml
About TruePoint Solutions
TruePoint Solutions is a California-based software and services company, focused exclusively on information technology solutions for local government agencies, water companies, and special districts. The TruePoint Solutions team has a phenomenal resume of work experience with local government designing, building, implementing, and supporting complex government applications. This depth of experience has given the TruePoint team keen insight into the needs of the industry. TruePoint Solutions applications are fully browser-based and utilize the Microsoft .Net framework. TruePoint is a Microsoft partner and a member of the Microsoft Developer Network. Learn more at www.truepointsolutions.com.
Media Contact
Juli Rose
TruePoint Solutions
(916) 860-4609
marketing@truepointsolutions.com
www.truepointsolutions.com
---