FOR IMMEDIATE RELEASE
TruePoint Solutions Hosts Seventh Successful TruePoint Connect User Group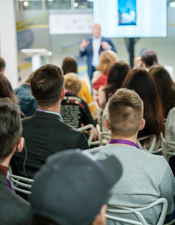 LOOMIS, Calif.—Nov. 13, 2023: TruePoint Solutions, leading provider of CIS/billing solutions for utilities and agriculture irrigation, and professional services for public agencies today shared that the 2023 TruePoint Connect User Group event was held October 23 – 25 at the Eldorado Resort in Reno, NV, marking the seventh biennial user group.
TruePoint Connect is a resource available exclusively to customers of TruePoint Solutions' software and is held on alternating years. A longstanding customer favorite that is well-attended by a highly engaged pool of TrueBill and TrueAIM users, the 2023 event drew record attendance and has been hailed as the most successful TruePoint user group event to date.
The 2023 TruePoint Connect returned with customer favorites, such as TruePoint's Support Zone, review of new features, expert-led sessions by customers and TruePoint staff, and hands-on training. And as popular, were this year's panel discussions, moderated by TruePoint's Don Hunsinger, with participation from an assortment of TruePoint's customer agencies. Each session throughout the conference lived up to expectations as timely, relevant, insightful, and ultimately, helpful and applicable to agency operations. Six separate hands-on, interactive training sessions led by TruePoint experts, were developed for users at every level and attended to capacity.
"TruePoint Connect has earned its reputation as the top event and resource for TrueBill and TrueAIM users," states Don Hunsinger, Founding Member and Senior Product Manager at TruePoint Solutions. "Virtually every attendee came away with fresh ideas, information about industry trends and technology, and best practices that they can apply in their agency to further optimize efficiency and better serve their customers. At the same time, the event gives us the opportunity to hear first-hand from our customers about the challenges their agencies face, as well as the successes they've achieved – and that information factors into our continuing product development and enhancements."
TruePoint Solutions' software products came on the market in 2005 and quickly gained popularity among agencies handling utility and agriculture irrigation billing and management. Founded by industry leaders with deep experience in technology for the public sector, TruePoint Solutions recognized the market need, and held the expertise to develop solutions that are designed to meet and exceed the needs of those agencies. TrueBill and TrueAIM have equipped agencies to operate efficiently and provide top rated service to their customers.
About TruePoint Solutions
TruePoint Solutions is a California-based software and services company, focused exclusively on information technology solutions for local government agencies, water companies, and special districts. The TruePoint Solutions team holds decades of work experience with local government, designing, building, implementing, and supporting complex government applications. This depth of experience has given the TruePoint team keen insight into the needs of the industry. TruePoint Solutions products are fully browser-based and utilize the Microsoft .Net framework. TruePoint is a Microsoft partner and an Esri development partner. Learn more at www.truepointsolutions.com.
Media Contact
Juli Rose
TruePoint Solutions
(916) 259-1293
marketing@truepointsolutions.com
www.truepointsolutions.com
---