FOR IMMEDIATE RELEASE
Brazos River Authority Goes Live with TrueBill™ Utility Billing Solution to Enhance Operations and Improve Efficiency
LOOMIS, Calif.—May 20, 2022: TruePoint Solutions™, developer and provider of leading edge utility billing solutions and professional services for local government, today announced the successful implementation of its flagship solution, TrueBill™ at the Brazos River Authority (BRA).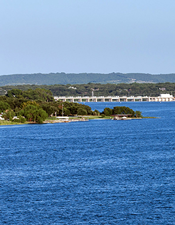 TrueBill was implemented as a cloud-based solution, hosted with Amazon Web Services (AWS), and provides access to staff from anywhere, at any time, without any additional impact or burden on BRA's IT staff. Further enhancing efficiency, TrueBill has been integrated with the Infor Financial system and REPAY for payment processing.
"If we had known about TrueBill 10 years ago, we would have made the move back then," states Matt Wheelis, Accounting Manager at the Brazos River Authority. "We have been so impressed with the product and our implementation team, I would truly recommend them to any potential customer. The ability to do most of your work from one screen has made our process so much more streamlined than what we have experienced for the past 20 years."
BRA looked to the experience of similar agencies participating in their regional river authority summit. The participants from San Jacinto River Authority (SJRA) shared their overwhelming success and satisfaction with TrueBill, as it readily accommodates the unique billing needs of river authorities. Rather than traditional utility billing, BRA bills at regular intervals to its customers for a broad array of 30 - 40 permit and billing types. Additionally, it sought a solution that would allow for billing intervals to be adjusted on demand. TrueBill's flexibility fully meets BRA's varied billing requirements.
Prior to the implementation of TrueBill, BRA had been operating with a legacy solution that was unnecessarily complex, requiring multiple screens for any given function, and excessive time to perform even routine tasks. Over time and through staffing changes, it became evident that a more appropriate solution with a greater level of support that would integrate seamlessly with its other solutions was necessary to meet its ongoing needs.
TrueBill provides simplified processes and has ramped up BRA's efficiency in allowing it to manage all invoices and payments including those for customers that don't fall within typical billing standards. BRA can easily track and route information and most tasks can be accomplished from a single screen. TrueBill's flexibility allows BRA to manage and monitor the billing for all of the bodies of water in its purview, including the river and lakes, separately through ad hoc reporting.
Using its own rapid methodology, TruePoint Solutions was able to fully implement and integrate the solution on an accelerated schedule, allowing BRA to execute its large December billing cycle with TrueBill. Ensuring that BRA would be prepared to operate with its new solution, the TruePoint Solutions team provided comprehensive, interactive training in multiple sessions. As a result, BRA staff were prepared and comfortable with the new solution from the start and have fully adopted and embraced it.
"We're proud to provide the Brazos River Authority with a solution that meets its needs so well and effectively improves its billing processes and management," states Don Hunsinger, Manager of Software Development & Customer Services at TruePoint Solutions. "In adopting TrueBill for its billing activities, BRA joins a growing number of River Authorities in leveling up its billing procedures while simplifying processes and alleviating the burden on staff."
About Brazos River Authority
The Brazos River Authority was created by the Texas Legislature in 1929 as a Special District to manage the Brazos River as a water resource in Texas. It was the first state agency in the United Stated created specifically for the purpose of developing and managing the water resources of an entire river basin. Today, BRA's staff of 250 develop and distribute water supplies, provide water and wastewater treatment, monitor water quality, and pursue water conservation through public education programs. Learn more at www.brazos.org.
About TruePoint Solutions
TruePoint Solutions is a California-based software and services company, focused exclusively on information technology solutions for local government agencies, water companies, and special districts. The TruePoint Solutions team has a phenomenal resume of work experience with local government designing, building, implementing, and supporting complex government applications. This depth of experience has given the TruePoint team keen insight into the needs of the industry. TruePoint Solutions applications are fully browser-based and utilize the Microsoft .Net framework. TruePoint is a Microsoft partner and a member of the Microsoft Developer Network. Learn more at www.truepointsolutions.com.
Media Contact
Marketing Manager
TruePoint Solutions
(916) 860-4609
www.truepointsolutions.com
---