FOR IMMEDIATE RELEASE
TruePoint Solutions and Avolve Software Extend Partnership Agreement to Provide Top-Rated Service and Plan Review Solutions to Public Agencies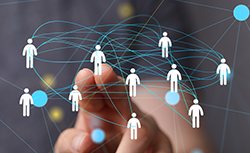 LOOMIS, Calif.—Aug. 1, 2023: TruePoint Solutions, leading provider of professional services and CIS/utility and agriculture billing and irrigation management solutions for public agencies today announced that it has formally committed to an extended partnership with Avolve Software®, the industry leader in electronic plan review solutions, DigEplan, DigEplan Pro, and ProjectDox.
Together the companies have collaborated in bringing state-of-the-art digital plan review solutions to nearly 100 agencies performing permitting and plan review activities. The new partnership agreement effectively extends the previously contracted partnership into the foreseeable future.
"For years, public agencies have benefitted from the partnerships we've held with the parent companies of DigEplan and ProjectDox," states Kent Johnson, CEO and Founding Partner at TruePoint Solutions. "Agencies know they can rely on our expertise and judgement in providing market-leading solutions for electronic plan review. We are committed to that responsibility, and our partnership with Avolve Software ensures that agencies have access to the best plan review solutions and implementation team, bar none."
In 2022, Avolve Software, parent company of ProjectDox, merged with DigEplan with backing from Polaris Growth Fund. The merger created a plan review powerhouse with digital solutions to meet virtually any need for every city, county, and state, regardless of size. Along with their new enhanced DigEplan Pro solution, all solutions equip agencies with digital end-to-end plan review management that will significantly improve efficiency and productivity, as well as customer experience, as compared to paper and legacy software.
"Our partnership with TruePoint Solutions has always retained a natural alignment. With mutual respect and understanding of expertise, our partner-centric approach delivers because we both put what is best for the customer at the very front. Through this trusted alliance agencies feel confident because the implementation and support is interlinked right from the start. We are excited to continue this journey with TruePoint with this extended contract," comments Derek Porter, Chief Growth Officer, Avolve Software.
TruePoint Solutions is trusted by public agencies across the country for its expertise and ability to equip agencies to achieve operational excellence through the best use of technology. Founded and run by industry leaders, the company holds an impressive record of achieving successful outcomes for its customers. The combination of its depth of experience and the practice of applying individual attention to each client ensures that the agency's specific needs are addressed and met. Through its nearly 20 years in business, TruePoint has earned the unwavering loyalty of its customers.
"We take immense pride in our proven track record of revolutionizing agencies' plan review processes with DigEplan and ProjectDox" states Kent Johnson. "By continuing our collaboration with these products, we ensure agencies have access to the features that yield the greatest benefits without having to sacrifice other crucial functionalities. Their performance and flexibility have stood the test of time, consistently accommodating agencies' needs far better than any other electronic plan review solution out there."
About Avolve Software
Avolve Software is the global leader in electronic plan review software. With more than 250 customers across five countries, Avolve's significant investment in research and development ensures that its plan review solutions meet the needs of jurisdictions of all sizes. Its leading solutions ProjectDox and DigEplan, automate and streamline the permitting process, removing the inefficiencies of paper or non-integrated plan review solutions. The solutions ensure a robust and proven electronic plan review that enhances jurisdiction productivity and economic growth.
For more information visit: www.avolvesoftware.com
About TruePoint Solutions
TruePoint Solutions is a California-based software and services company, focused exclusively on information technology solutions for local government agencies, water companies, and special districts. The TruePoint Solutions team holds decades of work experience with local government, designing, building, implementing, and supporting complex government applications. This depth of experience has given the TruePoint team keen insight into the needs of the industry. TruePoint Solutions products are fully browser-based and utilize the Microsoft .Net framework. TruePoint is a Microsoft partner and an Esri development partner. Learn more at www.truepointsolutions.com.
Media Contact
Juli Rose
TruePoint Solutions
(916) 259-1293
marketing@truepointsolutions.com
www.truepointsolutions.com
---